Jockey Club Institute of Ageing
"Show Me Around! CUHK"
Photo Competition

Snapshot age-friendly facilities, places and services in CUHK campus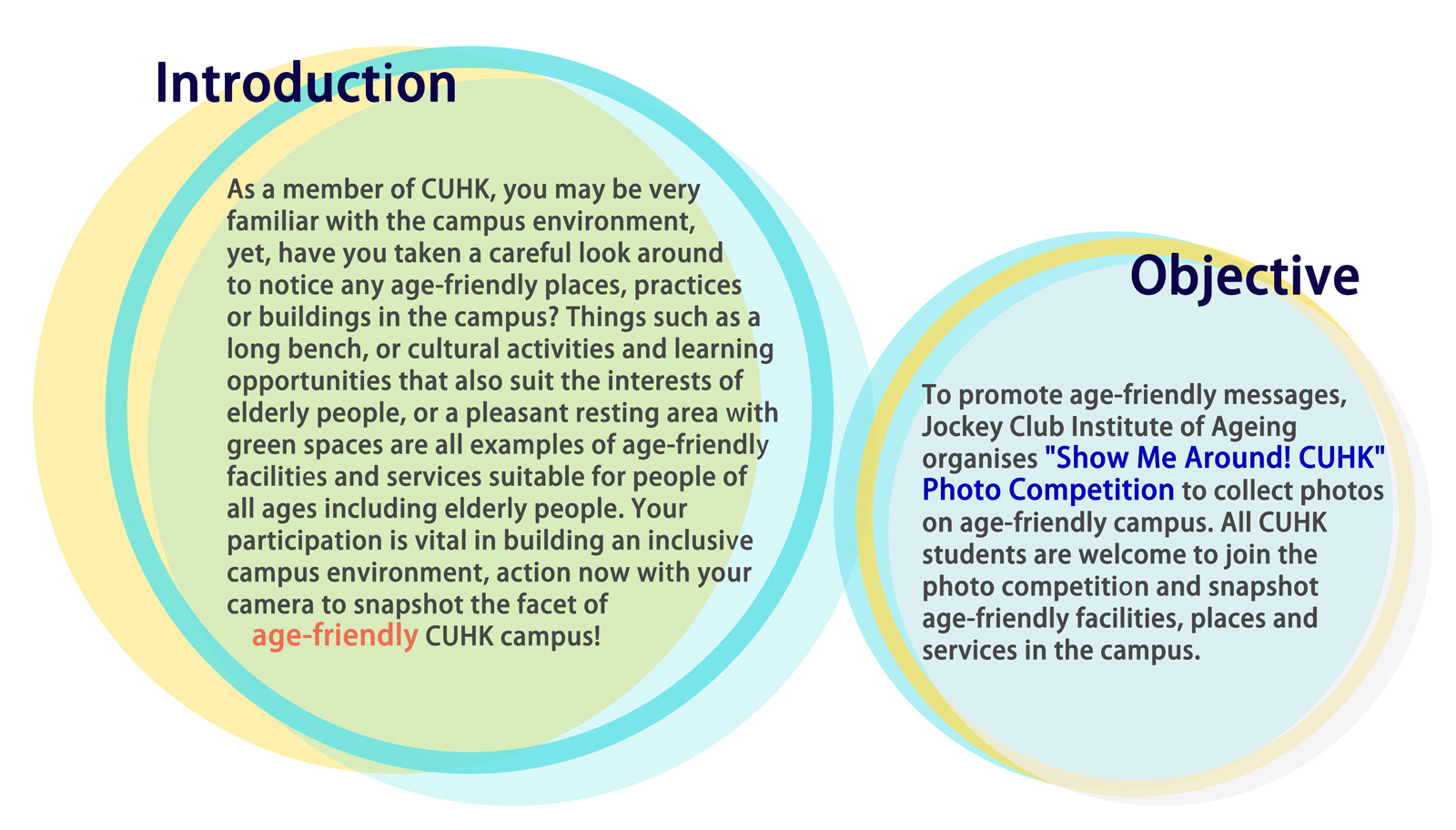 Enrollment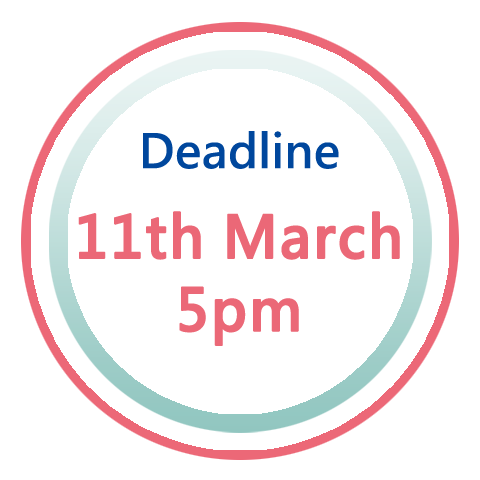 Target:

Full-time / Part-time CUHK students

Entries:

Using the theme of
"Age-friendly CUHK campus^", submit
1) a photo (e.g. people, events, still-life, campus environment, etc.) ;
2) a brief description of the photo with at least 50 words
^ For the scope of CUHK campus, please refer to
www.cuhk.edu.hk/english/campus/cuhk-campus-map.html

Enrollment:

Submit your entry with photo, title, brief description and the information of shooting location, together with the entrant's personal particulars (i.e. name, student ID, contact number and email), and send to Jockey Club Institute of Ageing ("IOA") through This email address is being protected from spambots. You need JavaScript enabled to view it. with the email subject of "Jockey Club Institute of Ageing Photo Competition". Photo entries should be submitted in JPEG format with a file size of at least 2MB.

Deadline:

11 March 2019 (Monday), 5 pm
(All submissions are based on the time of IOA's server, and late entries will not be accepted)

Announcement of Results:

Results will be announced on IOA's website on or before April 2019. All prize recipients will be notified individually.

Enquiries:

3943 9399 /

This email address is being protected from spambots. You need JavaScript enabled to view it.




Judging Criteria
Relevance to the theme (50%)
Composition of the image and photo-taking techniques (25%)
Message delivery through the brief description (15%)
Involvement of elderly people (e.g. consult elderly people on their needs and views in the process) (10%)

Judging Panel: Representatives of IOA, elderly people and professional photographer.



Remark: IOA and the judging panel reserve the right to make final decision on all matters relating to the competition, including the right to interpret and amend the regulations, judging criteria, prizes and other arrangements of the competition without prior notice.

Prizes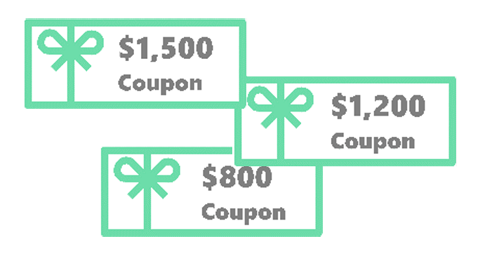 1st prize (one) : $1,500 Cash Coupon*
2nd prize (one) : $1,200 Cash Coupon*
3rd prize (one) : $800 Cash Coupon*
Shortlisted entries : $50 Cash Coupon*
* Cash Coupon are from Eslite Bookstore or Commercial Press Bookstore



Remark: Winning entries may be adopted for use in the "CUHK Map on Age-friendliness" to be produced by IOA.
More about "Age-friendly"
According to the World Health Organization, age-friendly environment and services can bring inclusiveness and accessibility to people of all ages including elderly persons, which covers eight domains:








To learn further, visit
http://www.jcafc.hk/en/afc-concept/what-is-afc
---
Regulations
Entrants are required to submit their entries by email to

This email address is being protected from spambots. You need JavaScript enabled to view it.

on or before 5 pm, 11 March 2019 (Monday) (all submissions are based on the time of IOA's server, and late entries will not be accepted). The submission should include a photo with title, brief description and the information of shooting location, together with the entrant's personal particulars (i.e. name, student ID, contact number and email). Please mark "Jockey Club Institute of Ageing Photo Competition" in the email subject. Photo entries should be submitted in JPEG format with a file size of at least 2MB. The organiser will send acknowledgement email to the entrants within 3 working days upon receipt of the submissions.
Each entrant is allowed to submit a maximum of three entries.
For personal particulars of the entrants and the description and file format of photo entries, if the organiser considers that the entrants are not eligible or the photo entries are incomplete, it has the right to request the entrants to provide supplementary information or disqualify the entrants from the competition.
Entrants should be the originators of their entries and have sole ownership of the copyright and interests in the intellectual property rights (including all licensed materials).
Entries should have never been entered in any other public competitions or used for exhibit, and have never received any awards or grants from other parties.
For all the winning entries (including the shortlisted entries), authorisation shall be conferred upon the organiser to use the photos without geographical, frequency and time restrictions and without compensation, and an undertaking not to exercise the personal right of copyright against the aforesaid bodies shall be made.
The organiser has the right of not presenting any awards if the entries received fail to meet the required standard. No explanation will be given in this regard.
The decisions of the judging panel on the competition results shall be final.
All winners must collect their prize within the redemption period stipulated by the organiser and present their student ID card for verification purpose. Winners failing to collect their prizes before the deadline shall be assumed to have forfeited their right to redeem the prizes.
The organiser, upon consulting the judging panel, has the right to disqualify the winner(s) who is/are found to have committed substantiated acts of fraud or dishonesty.
Entrants must abide by the laws of Hong Kong in the course of production.
Entrants shall take full liability if the entries are involved in any infringement or unlawful acts.
The organiser reserves the right to interpret and revise the regulations including the right to make final decisions on the results, awards and other arrangements without prior notice or any liabilities. In the event of any disputes arising from the competition, the organiser reserves the right to make final decisions.
Entrants should carefully read the competition details and regulations. By submitting their entries, the entrants agree to be bound by the above terms and regulations of the competition. Entrants will be disqualified from the competition for any violation of the regulations.